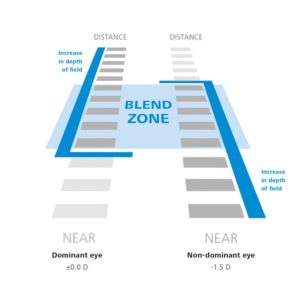 What is Blended Lasik?
Laser blended vision treatment is suitable for people suffering from presbyopia. People mostly begin to suffer from presbyopia, refractive error between the ages of 40–45 years. As we age, the natural lens inside the eye grows, leading to a decrease in the ability of the eye to change its focus from distance to near, a process called accommodation (accommodation (eye).
Presbyopia is corrected with blended LASIK in such a way that the dominant eye is set for distance and intermediate vision while the non-dominant eye sees best in the intermediate to near range. Because of the similarity in the visual performance of each eye in the intermediate range the brain is able to fuse the images between the eyes rendering a good binocular vision wherein the eyes are effectively working together to allow good vision at near, intermediate and far, without the use of glasses
Laser Blended Vision can also be performed after cataract surgery in order to increase the independence from spectacles. Similarly, cataract surgery can be performed together with Laser Blended Vision to provide a patient with better spectacle independence.